Ocean Wise is a 'Certified Good Food Fighter'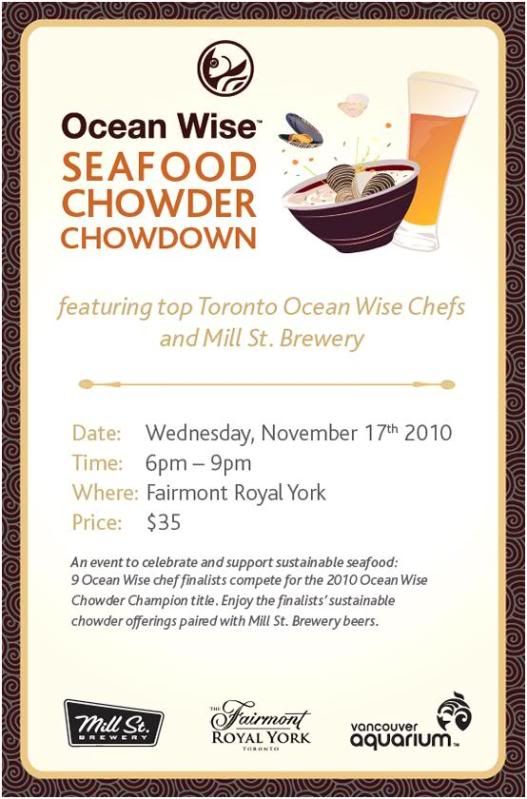 Ocean Wise is hosting a Sustainable Seafood Chowder Chowdown!
Join us at the Fairmont Royal York on Nov. 17th as 9 of Toronto's top Ocean Wise chefs battle it out to be the Ocean Wise Seafood Chowder Champion of 2010. Come and sample some delicious and sustainable seafood chowders each paired with different beers generously donated by Mill Street Brewery.
Guests will have the chance to vote on the People's Choice award, while a panel of distinguished judges including Chef Jamie Kennedy, Steve Abrams from Mill St. Brewery, Micah Donovan and Nobu Adilman from the Food Network's The Food Jammers will determine the night's winner.
In addition to chowing-down on some delicious chowders, special guest Alexandra Cousteau from Blue Legacy will discuss some of the issues facing our oceans today.
Get your tickets before they sell out!
Date: November 17, 2010
Time: 6 – 9pm
Where: Fairmont Royal York
The Ocean Wise logo on a restaurant menu, deli-counter or seafood product is the trusted symbol of ocean-friendly seafood choices for discerning consumers. Launched in Vancouver, BC in January 2005 by the Vancouver Aquarium, the Ocean Wise program has grown from a small, local initiative to a national program. Working with more than 400 partners with over 2,800 locations across Canada, Ocean Wise makes it easy for consumers to make environmentally-friendly seafood choices. Learn more at www.oceanwise.ca